Our Return Policy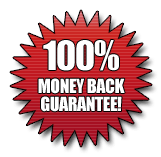 WE STAND BEHIND
THE PRODUCTS WE SELL
Every product that displays our "100% Money Back Guarantee" icon online is backed by our promise that you'll be satisfied with the product or you can send it back within 30 days for a refund of your purchase price (less shipping) subject to the terms herein.
It's that simple.
There's no need for excuses. If you buy any product with a "100% Money Back Guarantee" icon via our website and decide to return it, just contact our Customer Service Representative for an RMA number then return the complete, undamaged product in its original condition in the original packaging with a copy of your receipt for an exchange or a credit of your product purchase price to your original form of payment.
Our #1 priority is your 100% satisfaction with your purchase. If any product you purchase from us ever fails to 100% meet or exceed your expectation, contact one of our Customer Service Representatives for a replacement or refund, subject to the following guidelines in an effort to be fair to all customers:
No returns or refunds are allowed after 30 days from invoice date, unless alternate return information is provided with the product or herein.
Shipping costs are non-refundable.
New items that have been used may not be returned.
Returns must include all accessories as shipped. Refunds will be adjusted for returns missing accessories, factory boxes etc. or may be returned to the customer at the customers expense, at our option.
You must notify Tactical Innovations of your intention to return an item and receive our acknowledgement PRIOR to shipping.
All returns must be prepaid. Insurance on returns is your choice and at your expense and risk. COD returns will NOT be accepted and the package will be returned to you.
Any damaged shipments must be reported to carrier immediately for proper claim handling. Refer to our Problems With An Order? page for more info.
For obvious reasons, Novelty Condoms cannot be returned.
---
MANUFACTURER'S WARRANTIES
We ARE NOT a Warranty Repair Facility and have no way to provide any warranty service for other manufacturer's products. ALL warranty clams MUST be returned to the manufacturer of the product subject to their warranty claim policy and process. Most manufacturers will only deal directly with the end user retail purchaser. DO NOT return products for warranty service to Tactical Innovations. Warranty items returned to Tactical Innovations will be returned to the customer and your warranty claim will only be delayed.
---
FIREARM RETURNS
Once a firearm is fired or in any way damaged (dropped, scratched, disassembled etc.), the sale is final. New or used firearms are subject to a THREE DAY NON-FIRING INSPECTION from the time it arrives at your dealer. Make arrangements to inspect the firearm within this timeframe. Any problems should immediately be brought to our attention within this 3 day period of time and we will, at OUR option, make compensation arrangements or instruct you to return the firearm for a refund less shipping. Refunds (less shipping both ways as well as credit card fees if any) will be issued when the firearm is received in "As Shipped" condition with all accessories per our Firearm Shipping Instructions.
---
CLOSEOUTS / BLEMS
All items that are clearly designated "Closeout" or "Blem" may not be returned and their sale is final. Closeout and Blem merchandise will be clearly marked "Closeout" or "Blem" and will be discounted accordingly. Make sure that your purchase is correct and as intended prior to purchasing.
---
BOOKS, TAPES, DISKS
Informational items, such as books, tapes, disks etc may not be returned and defective items will only be exchanged for identical items.